"An exciting new voice in historical romance." –Anna Campbell, award?winning author of What a Duke Dares
"Monsieur Andrews, welcome to my home."
At the smoky, velvet sound, Cameron swung around. Every function in his body–heart, breath, blood ceased to function.
She was lovely. More than lovely.
Tendrils of raven hair framed a face so exquisite, it disarmed him. Her mouth, a soft, dewy pink, parted. And those eyes, as dark as Creole coffee, intelligent and assessing, roamed over him and then back to take hold of his. He needed to step closer, to stroke her skin. To possess her. But would his wealth and worldly experience be a match for the free-spirited Cajun-born widow?
Across the oceans, between worlds old and new–two lost souls find themselves at a crossroads.
Excerpt: (obtained from the author's website)
The moment Josette opened her front door Cameron knew he should never have accepted the invitation to dinner. She stood there, a goddess in peach silk cut so low a saint couldn't help but gawk. One glance and his flesh rebelled against any resolve to remain neutral. Worst of all, his eyes failed to obey his command and flickered not once, but twice over the top of her gown. And his mouth—curse the beggar for wanting a taste of that creamy-looking skin. Well, his traitorous body could bloody well go back into hibernation because laying so much as a finger on her was out of the question. A flash of puzzlement crossed her features. Merde, how long had he been staring? He cleared his throat. "Did you receive the note I had sent ahead informing you I'd be a couple hours late?"
"Indeed." She stepped aside and bid him enter.
Her ethereal scent nearly did him in as he walked past her, but then the spicy aroma of Cajun cooking hit his nostrils and precious childhood memories slammed into him so hard, he nearly stumbled. God, he missed that long-ago way of life. "Your pardon for my delay."
He handed her a velvet sack containing the bottle of rum he'd promised—or threatened her with—depending on how one viewed the matter.
Josette openly perused the length of him. "You obviously made a stop at your tailors. You must feel more comfortable in your lighter weight clothing. It becomes you by the way."
He gazed into those luminous eyes as if they were magnetic, slowly drawing him near. He now stood too close. And there was the problem. Either that or he shouldn't have added rum to his lemonade. Probably shouldn't have drunk three tall ones before setting out, either. Damn, she was beautiful. He managed a step back, as if doing so would set a new level of self-discipline. Odd, but this close, she somehow seemed familiar. Had to be because of her sister. No, Madame Olympée said the two looked nothing alike. He glanced around the entry, at the gilded Ormolu table festooned with flowers, at gold-framed oil paintings hung against pale, damask-covered walls, all in a vain attempt to ignore the essence of one stunning woman.
He gave a nod to Vivienne who stood behind and to the side of her cousin, a vague smile tilting her mouth. "Evening."
Josette handed her cousin the bottle of rum. "Would you mind taking this into the parlor, then join us for dinner?"
"Oui," Vivienne said, and disappeared.
Josette turned to Cameron. "Régine, my other cousin, has dinner at the ready. If you'll follow me."
He walked alongside her and tried like hell not to glance her way. With his height, even a brief glimpse meant looking down that blasted bodice. His nether regions saluted him and begged for a peek.
"Very nice," he said when they entered the formal dining room. Old Louis LeBlanc couldn't possibly have had a hand in this kind of decorating, not with the lace tablecloth, French chairs upholstered in velvet and walls painted in a bold trompe l'oeil of green ivy, colorful flowers and, hell, even butterflies that looked amazingly alive. He drew out a chair at one end of the table for Josette, but instead of properly seating himself to her right, he helped Vivienne into that one and chose an empty chair opposite Josette. He'd be facing her straight-on all evening, blast his lust-filled heart. Not even the bowl of fresh flowers sitting low in the center of the table was going to obscure his view.
Flickering candlelight from the chandelier danced across Josette's dark hair and played over a mouth tilted at one corner. What was that about? Did she have her own secrets? She glanced up at him, as though she'd read his thoughts.
The woman was sultry as sin and didn't even know it.
(All info obtained from the author's website)
I learned to read and write before I started school. Books fascinated me more than toys. The idea of a person stringing words together in a sensible order to entertain and educate, dazzled me.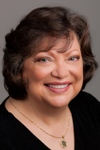 Did I always want to be a writer? Not that I knew of, but in retrospect, the signs were there. At night I concocted stories while my sister and I huddled together under the covers—especially during frozen Minnesota winters. I forgot about those wonderful times my imagination created until she reminded me a few years ago. "I never heard the ending of your tales because I fell asleep," she said. "And you never told the same story twice."
In my late thirties, I discovered my eighth grade teacher had been using a paper I wrote as an example to his other students. He returned the paper to me with the comment: "I always thought you'd become a writer." When I read the story, to my surprise, I discovered I had the same distinct author's voice back then I use today. Had I looked a little closer, I might have realized the calling of a romance writer was already pounding in my veins.
I don't know why it never dawned on me to be a writer, but one day my mother showed me a romance novel and said, "I think you can do this. Why don't you sit down right now and write your first chapter?"
Gosh, me?
I ignored her and took a bath instead.
The only destiny I could be certain of was that I was going to accomplish something different from the mundane (I've done that in spades).
One day, a terrible illness changed my life. I left the hospital after a near-death experience, happy to be alive, and with an awareness of how I could combine my natural intuitive abilities, and my love for people, in a positive way. I let my intuition guide me, and set about helping others to become self-empowered—especially women. What a fantastic career, filled with amazing people intent on finding their own path in life, from rocks stars to women stepping out of abusive situations. I wrote seminars, developed classes, created meditation CDs, wrote and delivered speeches, and spent time in the media.
Not long ago, the time came when I was able to sit back and take a look at my life, chart new territory. I had finally reached a point where I could devote my life to writing. Of course, I would write nonfiction—or so I thought. After all, I had great material, a sturdy platform, and years of experience with proven methods.
What happened?
Out popped my favorite fiction: Historical romance novels. As much sense as it doesn't make to those who expect nonfiction from me (don't worry, that will come in its own time, as well) writing romance feels right. Oh, so right. Love, in all its forms, is the pulse of my life. Writing romance makes my heart soar and fills my world with adventure and excitement.

All my hard work has paid off.  Not only did I win or final in over twenty international writing contests, I finaled in the historical category of the prestigious Golden Heart® award with my Victorian romance, A DUKE'S WICKED KISS (check my book section for a peek). For those who don't know what I'm talking about, around 1200 people compete each year for the highest award that Romance Writers of America® bestows on unpublished manuscripts.
I am thrilled that in 2014 four of my novels will be published, with a fifth releasing in 2015.
I love stories. I love reading them, I love writing them. Also, I fall desperately in love with my characters. I hope you will too.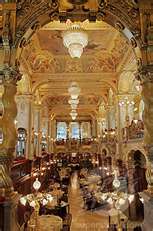 Born in Minnesota, I have lived all over the U.S.: Idaho, Washington, California, Texas and New York. Then I lived along the Adriatic sea in Croatia for four years. Currently, I live in Budapest, Hungary, often called the Paris of the East. I'm within a day's drive to cities like Salzburg, Paris, Venice.  But oh, those many coffee houses of Budapest! The grandeur of a golden age still exists here and I never tire of the city. The photo on the left is one of those I frequent.
First and foremost thanks aways go to the publisher Kensington Publishing and NetGalley for providing us with a copy of this book so that we could bring you this review.
So I read this book right after finishing a 600+ historical, so I will admit that it took me a bit to actually finish reading this. Not because of the author or because the books wasn't good, but more because my brain was fried from having just read such a long emotional historical already. So I hope that I can do this book justice in its review. Cameron is a man who has been through so much and still can't see how blessed he really is, until he has a surprise visitor. Someone who changes his life around and makes him take notice. Josette is a woman who has endured a lot of humiliation and ridicule because of who she is related to, yet she doesn't hold a grudge she doesn't show anger or hate. She looks to see how she can better things for herself and make a positive difference for her niece. She sees the importance of family and always tries to see things in a positive manner. There are times that I will admit that I forgot that this took place in pre-civil war New Orleans and not in just pre-twentieth century Louisiana. The other thing that bothered me a bit about the book was the fact that the characters would slip into a bit of French Creole dialect, yet for those of us who don't speak french we are left not knowing what was said. That killed a little bit of the story for me since I didn't know if I was missing something important in the story.
I give this book 4 souther belle kisses…
Happy Reading… Adri